What is ISO 27001?
The ISO 27001 standard – also known as ISO/IEC 27001:2022 – is an internationally recognised standard for information security. 
The framework comprises securitycomprises of security controls to protect information assets, analyse risk effectively and outline internal processes. As a holistic standard, the four main categories of controls are organisational controls, people controls, security controls and technological controls.
It outlines requirements for any organisation to build, maintain and continually improve an Information Security Management System (ISMS)—an auditable framework for policies, procedures, processes and systems that manage information security risks such as cyberattacks, data leaks, theft or fraud.
Learn More
Discuss your cyber security options
Get in touch today to speak to an expert and secure your business, or call us on 0800 090 3734
The importance of ISO 27001
ISO 27001 compliance was previously seen as a competitive edge. However, in many cases, the certification is obtained due to regulatory requirements or contractual obligations. For example, any organisation that works with the Government or healthcare organisations, especially the NHS, is required to prove security compliance.
That's because it provides a clear directive of processes that must be followed to keep data and sensitive information safe.
An ISMS supported by this standard will provide any organisation with effective risk management processes, minimise the likelihood of a data breach and advise on business continuity processes and implications.
ISO 27001 provides the benchmark by which modern organisations should manage data and confidential information to protect IP (Intellectual Property) and minimise security threats.
By following its controls, customers, partners and stakeholders are assured that information security management is prioritised within the business. Plus, it leads to a more effective risk-based approach to cybersecurity and an improved overall security posture to protect the business from cyberattacks.
Speak to an Expert
The Benefits of ISO 27001
Obtaining ISO certification will give any business a competitive edge when submitting tender applications for new business opportunities.
Without this certification, some new business opportunities may be unavailable, hugely disadvantageous todisadvantaging any potential growth.
Demonstrating a strong security posture can help your business reduce fines due to cyber-attacks. The Information Commissioner's Office (ICO) is known to reduce data breach fines for organisations that demonstrate a high level of risk management and mitigation effort.
Other cost savings are from highly defined and effective processes, which safeguard the business against wasted time and effort. These processes will also minimise business downtime when recovering from a security incident.
ISO 27001 helps organisations with customer retention through trust and increased confidence. This is especially important when cyberattacks are at an all-time high.
Not only does this ensure that your organisation retains customers but also increases the likelihood of new customer wins.
With increasing awareness of cyberattacks, customers are demanding more from their business and commercial suppliers in terms of cybersecurity.
Clients prefer organisations with an ISO 27001 certification over those that can't ensure that personal data is secured. Being certified shows new and potential customers that your business takes data security seriously. This instils a high level of trust from the offset of the relationship.
Any organisation that complies with the security controls will have a greater understanding of their risk profile.
The security risks identified as part of the risk assessment during the certification process can be mitigated, further protecting the business from security breaches.
For all businesses handling personal—especially sensitive—data, the certification helps build trust. With regular independent and internal audits, all stakeholders understand whether the controls are working as needed to protect against cyberattacks.
Adopting the ISO 27001 framework provides assurance that the organisation employs the highest integrity when it comes to data security and policies and processes.
ISO 27001 can help safeguard the business against successful cyberattacks. While it can't stop the attacks, its controls put the necessary policies and processes in place to stop attempts from succeeding.
The standard helps organizations improve their personal data protection and security practices, leading to higher levels of security and ongoing improvement.
ISO 27001 compliance also includes regular cybersecurity awareness training. That brings a front-line level of protection to mitigate against human error and bolster internal and external reputation.
ISO 27001 certification proves that the organisation complies with information security standards, including GDPR and the Data Protection Act. The requirements for compliance are outlined in the Annex A controls.
Annual audits evaluate compliance with ISO 27001 framework. They provide proof that not only is an enterprise safeguarded against cyberattacks right now, but also in the future.
With this proof, businesses can avoid penalties associated with security breaches.
Organisations that aren't able to prove commitment to data security can face large fines in the event of a breach. In the EU, GDPR states that the ICO can issue fines up to 4% of the organisation's annual turnover, or €20m, whichever is greater. If you can prove that your organisation had reasonable safeguards in place, the fine can be lowered.
One of the benefits of ISO 27001 is the fact that any organisation that can demonstrate data protection practices can avoid penalties associated with security breaches.  
Organsiations that aren't able to prove commitment to data security could face large fines in the event of a breach. In the EU, GDPR states that the ICO can issue fines up to 4% of the organisation's annual turnover, or €20m, whichever is the greater.  
The reputational damage that this would also cause is unthinkable.  
It's important to note that while high profile fines have been issued to the likes of British Airways and Marriott International Hotels, smaller businesses are liable too.  
As the business grows, there's a danger that individual teams create processes that leave the organisation vulnerable.
An ISO 27001 certification encapsulates the whole organisation. It can be scaled to match the business growth and will prevent inefficiencies and gaps in security standards.
21

%

of companies lose money following a breach
1

in3

businesses suffer wide disruption following a breach

80

%

of organisations said ISO 27001 had actively inspired trust in their business
Discuss your cyber security options
Get in touch today to speak to an expert and secure your business, or call us on 0800 090 3734
Why get ISO 27001 certified?
Cyber incidents are increasingly common across the world. DCMS's Cyber Breaches Survey found that only 39% of organisations in the UK were able to identify that they had suffered a breach.  
Without ISO 27001, it's impossible to implement and maintain an effective ISMS. This puts your business, your employees, your customer data and your reputation at risk.  
The benefits of ISO 27001 certification in preparing policies and processes to manage information security effectively, put certified organisations ahead of the criminals.  
The certification shows strong controls for information security, identifies risks to the organisation, and limits damage from security breaches.
Identifying security gaps helps fix weaknesses and reduces the risk of data breaches in an organisation.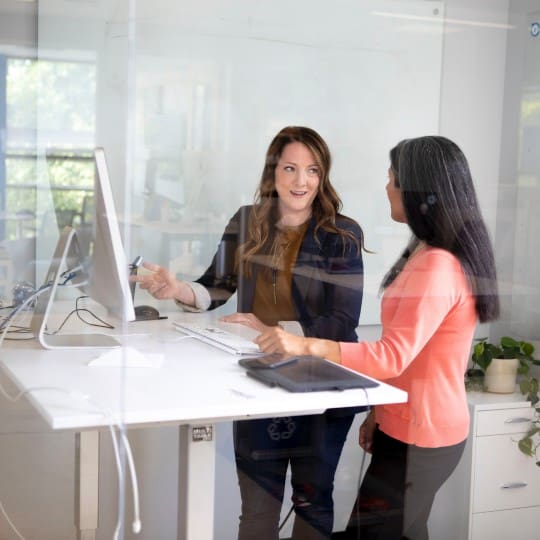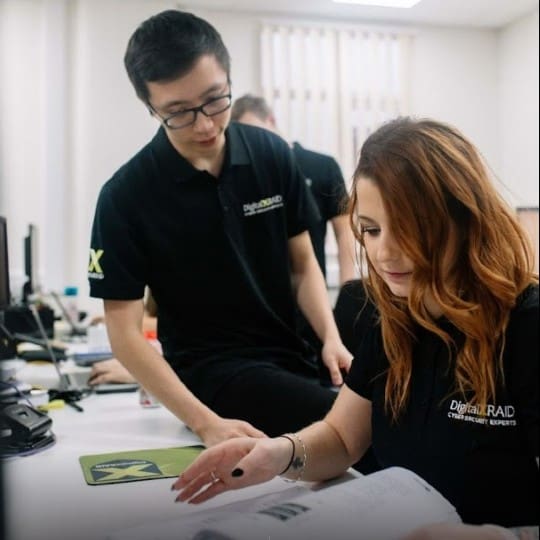 With ongoing formal audits, ISO 27001-certified companies can prove best practice processes and clearly defined information security policies. That puts them ahead of the competition to win more business.
Implementing ISO 27001 is a decision which can't be undertaken lightly. It needs to be a top-down decision with the full support of senior management.
If companies can answer positively to this ISO 27001 checklist, then they are ready to implement the relevant processes and controls needed to get ISO 27001 certified.  
Achieving ISO 27001 certification shows that a business has:
Secured data in all forms 
Assessed and reduced the risk of a breach 
Increased its resilience to cyberattacks 
Created a centrally managed framework to ensure data is only modified by authorised users 
Responded to macro factors and evolving cyber security threats 
Protected the integrity, confidentiality and availability of data 
Protected customer data from falling into the wrong hands 
Protected business reputation 
Been independently assessed to an international standard for ISMS best practice 
DigitalXRAID's fully managed ISO 27001 Certification service
Trying to implement your own ISO 27001 information security management system is difficult without specialist knowledge and experience of the ISO 27001 standard controls. Let DigitalXRAID take on the effort of the process for you.
Keeping our customers one step ahead of cyber-criminals is at the very heart of what we do. Our fully managed ISO 27001 certification service will help you to secure your assets, shield you from attacks and make sure your data remains safe.
We are fully certified to all ISO 27001, ISO 20000 and ISO 9001 standards. Our team of experts is qualified to implement and audit against ISO standards and will provide guidance.
We're also CHECK and CREST accredited, making us leaders in our field. Consequently, we're the best choice to manage your ISO 27001 certification effectively. You can rest assured you are getting the best possible ISO 27001 implementation.
With ISO 27001, we will:
Provide a detailed gap analysis to understand what work must be undertaken

 

Guide you through all mandatory documentation

 

Deliver guidance to adhere to all ISO 27001 requirements

 

Help you through every step of the certification audits

 

Provide ongoing support and monthly audits after certification

 

Make sure your information assets remain safe and secure

 
Discuss your cyber security options
Get in touch today to speak to an expert and secure your business, or call us on 0800 090 3734
Protect Your Business & Your Reputation.
With a continued focus on security, you can rest assured that breaches and exploits won't be holding you back.